Description of a new species of Prolytta Kaszab, 1959, from Tanzania (Coleoptera, Meloidae)
Abstract
Prolytta nyassica spec. nov. wird aus Tanzania beschrieben und in eine neu vorgeschlagene Gruppe (nyassica) eingeordnet. Ein Habitusbild, Abbildungen von Etiketten und des Aedeagus sowie eine Verbreitungskarte sind beigefügt.
Nomenklatorische Handlungen
Prolytta nyassica spec. nov. – urn:lsid:zoobank.org:act:36F49FF7-D23D-4536-8B28-28E82865374B
Literaturhinweise
Bologna, M. A. & Di Giulio, A.
2002: Review of the southern African genus
Prolytta
Kaszab
, with a description of the first-instar larva, and bionomic and taxonomic remarks (Coleoptera: Meloidae). – Invertebrate Systematics
16
: 177-194 - DOI:
10.1071/IT01017
.
Bologna, M. A. & Pinto, J. D.
2001: Phylogenetic studies of Meloidae (Coleoptera), with emphasis on the evolution of phoresy. – Systematic Entomology
26
: 33-72 - DOI:
10.1046/j.1365-3113.2001.00132.x
.
Kaszab, Z.
1959: Phylogenetische Beziehungen des Flügelgeäders Meloiden (Coleoptera), nebst Beschreibung neuer Gattungen und Arten. – Acta Zoologica Academiae Scientiarum Hungaricae
5
: 67-114.
Selander, R. B.
1966: A classification of the genera and higher taxa of the Meloid subfamily Eleticinae (Coleoptera). – Canadian Entomologist
98
: 449-481.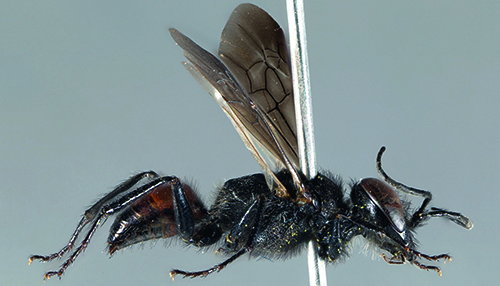 Veröffentlicht
2017-06-30
Zitationsvorschlag
François, M.
2017: Description of a new species of Prolytta Kaszab, 1959, from Tanzania (Coleoptera, Meloidae) - Beiträge Zur Entomologie = Contributions to Entomology
67
(1): 107-109 - doi: 10.21248/contrib.entomol.67.1.107-109
Copyright (c) 2017 Mickaël François
Dieses Werk steht unter der
Lizenz Creative Commons Namensnennung - Weitergabe unter gleichen Bedingungen 4.0 International
.