Dryudella paulinae spec. nov. (Hymenoptera, Crabronidae) from Morocco
Hans-Joachim Jacobs

Senckenberg Deutsches Entomologisches Institut, Müncheberg

Swantje Grabener

Centrum für Naturkunde (CeNak), Zoologisches Museum, Hamburg
Literaturhinweise
Bohart, R. M. & Menke, A. S.
1976: Sphecid Wasps of the World. A generic revision. - University of California Press, Berkeley, Los Angeles, London: IX + 695 pp.
Giner Marí, J.
1946: Astata paleárticas. Algunas Astata Latr. (Hymen. Sphec.) del Marruecos español y francés. – Eos, Revista Española de Entomología 22: 7-15.
Pulawski, W. J.
1959: Espèces nouvelles ou peu connues du genre Astata Latr. (Hym., Sphecid.). – Polskie Pismo Entomologiczne 29: 359-416.
Pulawski, W. J.
1961: O dwóch gatunkach Sphecidae (Hym.) z Libanu. Sur deux Sphecidae (Hym.) du Liban. – Polskie Pismo Entomologiczne 31: 93-96.
Schmid-Egger, C.
2014: Order Hymenoptera, families Crabronidae and Sphecidae. Further records and the description of new species.: 521-631 – In: Van Harten, A. (ed): Arthropod fauna of the UAE. Volume 5 – Dar Al Ummah, Abu Dhabi.
Schulz, O.
2008: The IMPETUS Climate Monitoring Network. – In: Schulz, O. & Judex, M. (eds): IMPETUS Atlas Morocco – Research Results 2000–2007., 3. Edition – Department of Geography, University of Bonn, Bonn.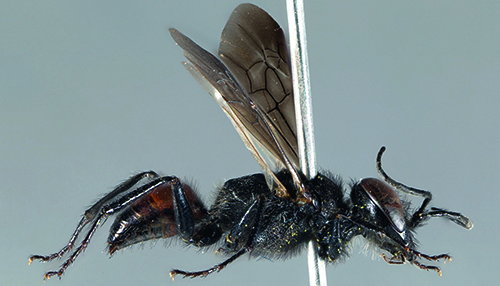 Veröffentlicht
2017-06-30
Zitationsvorschlag
Jacobs, H.-J., & Grabener, S.
2017: Dryudella paulinae spec. nov. (Hymenoptera, Crabronidae) from Morocco - Beiträge Zur Entomologie = Contributions to Entomology
67
(1): 111-115 - doi: 10.21248/contrib.entomol.67.1.111-115
Copyright (c) 2017 Hans-Joachim Jacobs, Swantje Grabener
Dieses Werk steht unter der
Lizenz Creative Commons Namensnennung - Weitergabe unter gleichen Bedingungen 4.0 International
.