New data on the Afrotropical Xantholinini. 3. New species from Ethiopia of the Naturkundemuseum, Erfurt (Coleoptera, Staphylinidae)
Schlagworte:
Coleoptera, Staphylinidae, Xantholinini, neue Arten, Leptacinus, Gyrohypnus, Notolinopsis, Balchis, Äthiopien
Zusammenfassung
Im Naturkundemuseum Erfurt aufbewarte Xantholinini aus Äthiopien wurden untersucht. Die folgenden neuen Arten werden beschrieben und sind hier dargestellt: Leptacinus riza spec. nov., Gyrohypnus aethiopicus spec. nov., G. oromianus spec. nov., Notolinopsis aethiopicus spec. nov., N. dodolanus spec. nov., Balchis oromiana spec. nov. Und B. hartmanni spec. nov.
Literaturhinweise
Bernhauer, M. 1915: Zur Staphyliniden-fauna des tropischen Afrika. – Annales Musei Nationalis
Hungarici 13: 95–189.
Bernhauer, M. 1929: Zur Staphylinidenfauna des belgischen Kongstaates. – Verhandlungen der k. k.
zoologisch-botanischen Gesellschaft in Wien 78 (1928): 106–131.
Bernhauer, M. 1931: Part II. Systematic. pp. 565-605. – In: Bernhauer, M. & Scott, H.: Entomological Expedition in Abyssinia, 1926-7: Coleoptera, Staphylinidae. – The Journal of the Linnean Society of London, Zoology 37: 559–605.
Bernhauer, M. 1932: Neue Kurzflügler aus dem belgischen Kongostaate. – Revue de Zoologie et de
Botanique Africains 22: 140–174.
Bernhauer, M. 1937: Beitrag zur afrikanischen Staphylinidenfauna. – The Annals and Magazine of
Natural History 10 (18): 321–336.
Boheman, C. H. 1848: Insecta Caffrariae annis 1838–1845 a J. A. Wahlberg collecta. 1 (1) Coleoptera (Carabici, Hydrocanthari, Gyrinii et Staphylinii). – Holmiae: Norstedtiana, xiii + 297 pp.
Bordoni, A. 2002: Xantholinini della Regione Orientale (Coleoptera: Staphylinidae). Classificazione, Filogenesi e Revisione Tassonomica. Volume 33: Monografie di Museo Regionale di Scienze Naturali – Museo Regionale di Scienze Naturali, Torino: 998 pp. - ISBN 8886041454 – http://www.nhbs.com/xantholinini-della-regione-orientale-coleopterastaphylinidae-classificazione-filogenesi-e-revisionetassonomica-xantholinini-of-the-oriental-coleoptera-staphylinidae-classification-phylogeny-andtaxonomic-revision-book [accessed 2017/10/11].
Bordoni, A. 2010: Allolinus Coiffait, 1966 nuovo sinonimo di Leptacinus Erichson, 1839 e descrizione di Leptacinus yemeniticus nov. spec. dello Yemen (Coleoptera, Staphylinidae). – Bollettino della Società entomologica italiana 142 (2): 77–79.
Bordoni, A. 2016: Revision of the Afrotropical Xantholinini (Coleoptera, Staphylinidae). – Biodiversity
Journal 7 (4): 389–894.
Bordoni, A. 2017: New data on the Afrotropical Xanholinini. 1. New species from South Africa in the Janak collection (Coleoptera, Staphilinidae). – Linzer biologische Beiträge 49 (2): 1233–1243.
Casey, T. L. 1906: Observations on the staphylinid groups Aleocharinae and Xanholinini chiefly of America. – Transaction of the Academy of Sciences of St. Louis 16: 125–434.
Coiffait, H. 1968: Coléoptères Staphylinides récoltés par J. Mateu dans l'Ennedi. – Bulletin de l'Institut Fondamental d'Afrique Noire (I.F.A.N.) Ser. A 30 (1): 135–150.
Eppelsheim, E. 1895: XII. Staphylinidae. – In: Esplorazione del Giuba e dei suoi affluenti compiuta
dal Cap. V. Bottego durante gli anni 1892–93 sotto gli auspici della Società Geografica Italiana. Risultati Zoologici. – Annali del Museo Civico di Storia Naturale di Genova 15 (2): 195–213.
Erichson, W. F. 1839: Genera et species Staphylinorum insectorum coleopterorum familiae. – F. H. Morin, Berlin: 954 pp.
Fauvel, A. 1907: Voyage de M. Ch. Alluaud dans l'Afrique Orientale. Staphylinidae. – Revue d'Entomologie 26: 10–70.
Laporte, F. L. 1835: Études entomologiques, ou description d'insectes nouveax, et observations sur leur synonymie. – Méquignon-Marvis, Paris: 159 pp.
Leach, W. E. 1819: Staphylinidae. – In: Samouelle, G.: The Entomologists useful compendium or an introduction to the knowledge of British Insects, London: 496 pp.
Roth, J. R. 1851: Diagnosen neuer Coleoptera aus Abyssinien. – Arkiv für Naturgeschichte 17: 115–133.
Scheerpeltz, O. 1974: Coleoptera aus Nordostafrika, Staphylinidae. – Acta Entomologica Fennica 31: 3–49.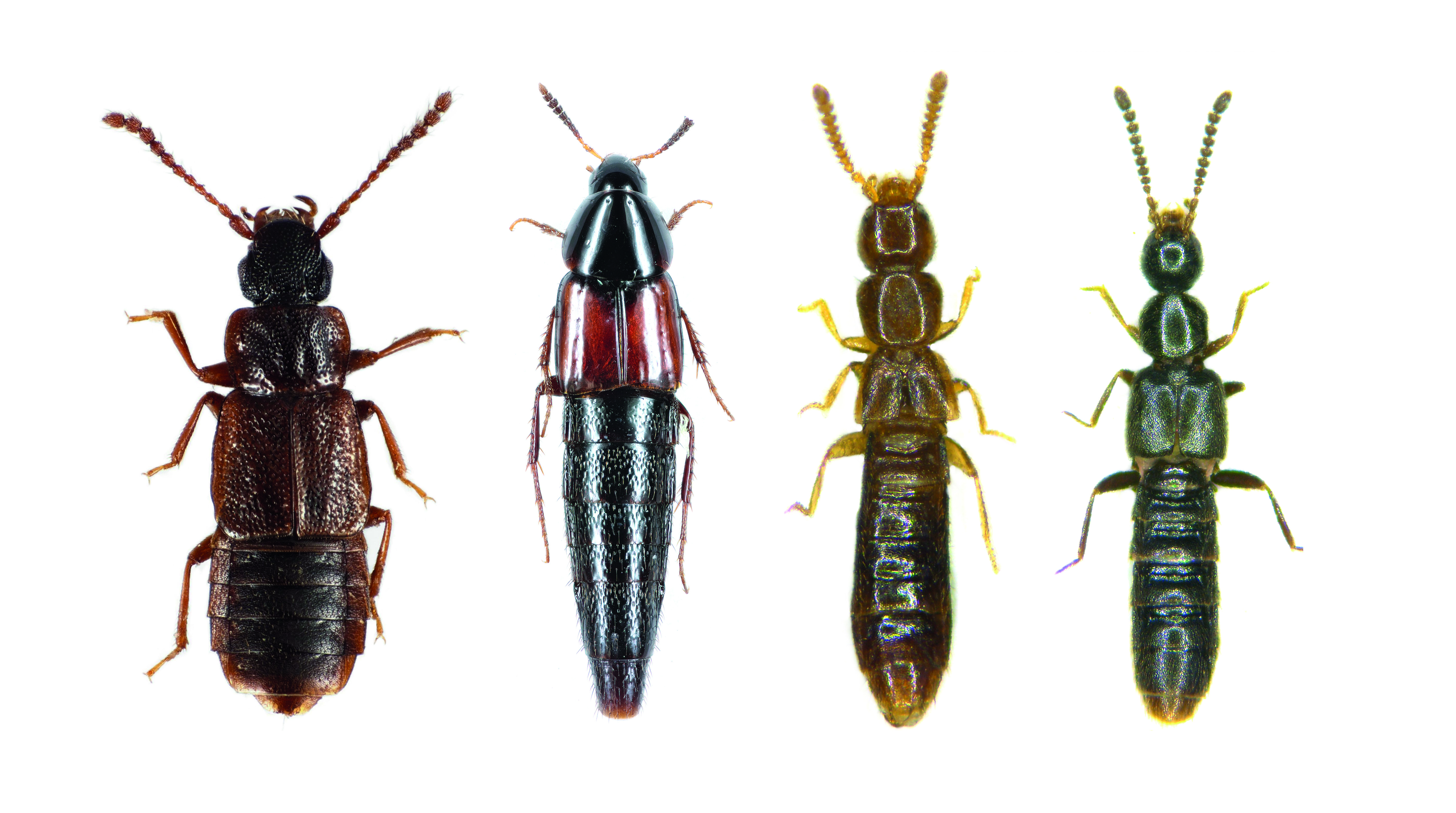 Veröffentlicht
2019-07-16
Copyright (c) 2019 Arnaldo Bordoni
Dieses Werk steht unter der
Lizenz Creative Commons Namensnennung - Weitergabe unter gleichen Bedingungen 4.0 International
.
Zitationsvorschlag
Bordoni, A.
2019: New data on the Afrotropical Xantholinini. 3. New species from Ethiopia of the Naturkundemuseum, Erfurt (Coleoptera, Staphylinidae) - Beiträge Zur Entomologie = Contributions to Entomology
69
(1): 079-085 - doi: 10.21248/contrib.entomol.69.1.079-085